Indian fish curry is a really good alternative to coconut-based Malaysian curries because the flavors are punchy yet the ingredients are so much more healthy and good for you. However, it's almost impossible to eat this
gourmet recipes
with just a little bit of rice, so that will still get you in the end. Another super quick, flavorful and healthy Indian curry which is truly delicious
fish recipes
.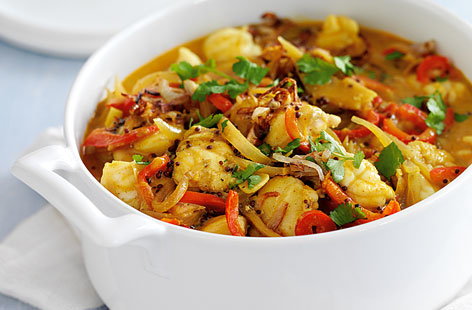 1 onion
3tbsp sunflower oil
1 red pepper
2 garlic cloves
1tsp black mustard seeds
1tsp ground coriander
1/4tsp tumeric
1/4tsp chilli powder
2-3 fresh red chillies, finely chopped
1tsp root ginger
400ml coconut milk
175ml (6fl oz) water
500g (1lb) cod
4 shallots
coriander leaves
lime wedges to serve
basmati rice to serve
Preparation:
Slice 1 onion into thin wedges, then fry in 2 tbsp sunflower oil until just turning golden. Add in 1 thinly sliced red pepper, 2-3 fresh red chillies (or more depending how hot you like your curry), 2 sliced garlic cloves, 1 tsp black or brown mustard seeds and fry for 2-3 more minutes.
Add 1 tsp ground coriander, 1/4 tsp turmeric, 1/4 tsp chilli powder, 1 tsp grated root ginger and stir-fry for 1 minute. Pour in a 400ml can coconut milk and 175ml (6fl oz) water and simmer for 8-10 mins, until slightly thickened.
Season, then add 500g (1lb) cod (or any other firm, white-fleshed fish) cut into big chunks, and simmer gently, covered, for 4-5 minutes, or until just cooked.
Meanwhile, fry 4 thinly sliced shallots in 1 tbsp sunflower oil until golden and crispy.
Scatter over the shallots and coriander leaves. Serve with lime wedges and cooked basmati rice.
Freezing and defrosting instructions
Fish curry is freezable and the rice make fresh. Defrost at room temperature for 1 hour and reheat in a saucepan, covered under a gentle heat for about 30 minutes or until cooked through.